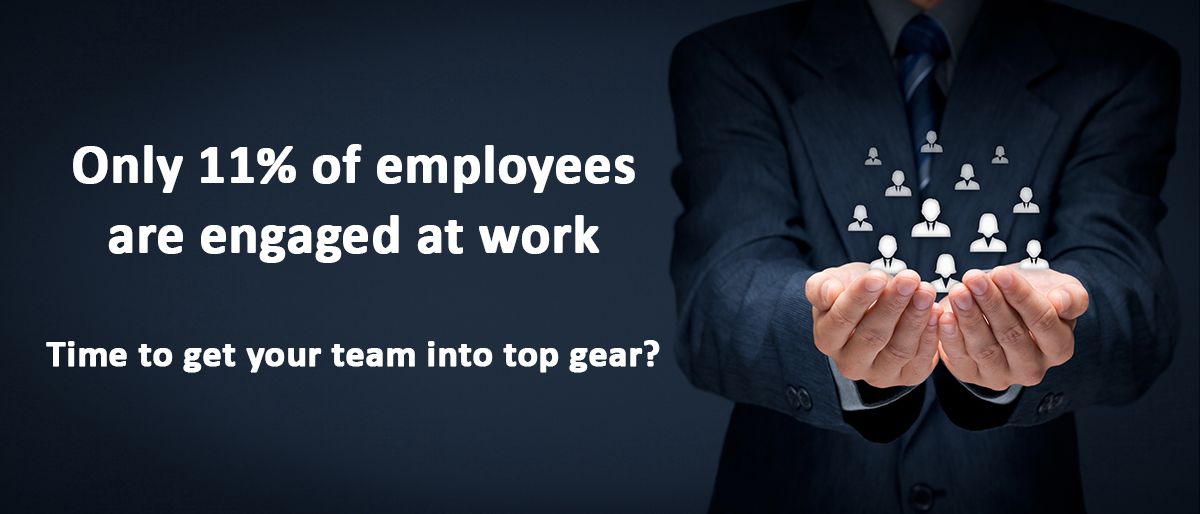 Yes, you read that correctly, according to the Gallup® State of the Global Workplace Report, only 11% of UK employees are fully engaged at work.
Workforce engagement vendor Ten Spot reports that 54% of Generation Z workers say they are less productive when working from home. In these extraordinary times leaders are struggling with how to keep their teams together, focused and generating the best results for their customers.
You've already tried team training and workshops before and they didn't work, because people forget 76% of what they learned after just 4 hours. Fortunately, technology now allows us to embed behavioural change and develop new working habits that dramatically improve employee engagement and productivity.
Our customised coaching programs will:
Increase the ramp-up speed for new hires
Reduce the churn rate for senior staff
Improve communication in cross-functional teams
Transform sales teams to win new business
Create a company culture that delivers an exceptional customer experience
Not your average sales training company
The key to success is to fully understand how to apply your greatest talents and strengths in your everyday life. People who focus on their strengths are six times as likely to be engaged at work.
We can show you:
What the best leaders do to tie their engagement practices to business outcomes
How to create a workplace where people want to show up, work hard and stay
How Gallup's newest tools and resources will improve employee engagement so your team can be more productive
Kevin is a skilled, conscientious and highly effective Strengths Skills Coach with a background in training, sales and business growth. He's also deeply passionate about helping individuals and teams to thrive. In today's changing and challenging business and corporate environment where having high performing individuals, teams and leaders is so key the work that Kevin does with individuals and teams can really help ensure you know, utilise and build on your strengths individually and collectively.
I had the pleasure working with Kevin for the last two years. Kevin is a seasoned Sales professional who successfully developed the Searchmetrics business in the UK and the Nordics. He is a very structured person, very accomplished in managing expectations as well as customer relationships and last but not least a lot of fun to work with.
I've recently had the pleasure of reconnecting with Kevin, where he was my sales manager at the start of my career years ago. It's great to see Kevin still has the same enthusiasm today, full of energy and a glass-half-full perspective. Having successfully run corporate sales teams Kevin is now applying his extensive selling expertise to mentoring and strengths coaching, which once again has proven invaluable: viewing my career through a new lens, helping me take stock of my achievements, identify not only my key strengths but other skills and characteristics that complete the package, to best position myself for continued future success and job satisfaction.
I worked with Kevin while he was Director Sales UK for Searchmetrics. He built up the business from scratch, recruited the team and carried out many individual marketing activities which increased the exposure of our brand with great success.
He is a dynamic, positive and open minded person with a strong 'hands–on' mentality. We had 4 great years together. Feel free to contact me for a personal reference statement.
"
Sales Code Ltd is a Gallup® partner company but not part of Gallup®. Sales Code coaches are not employed by Gallup® and our work is provided by Sales Code Ltd, not by the Gallup® organization.

CliftonStrengths® and the 34 theme names of CliftonStrengths® are trademarks of Gallup®. All rights reserved. To discover your Top 5 CliftonStrengths®, please visit www.gallupstrengthcenter.com. Opinions, views and interpretations of CliftonStrengths® are solely the beliefs of Sales Code Limited.