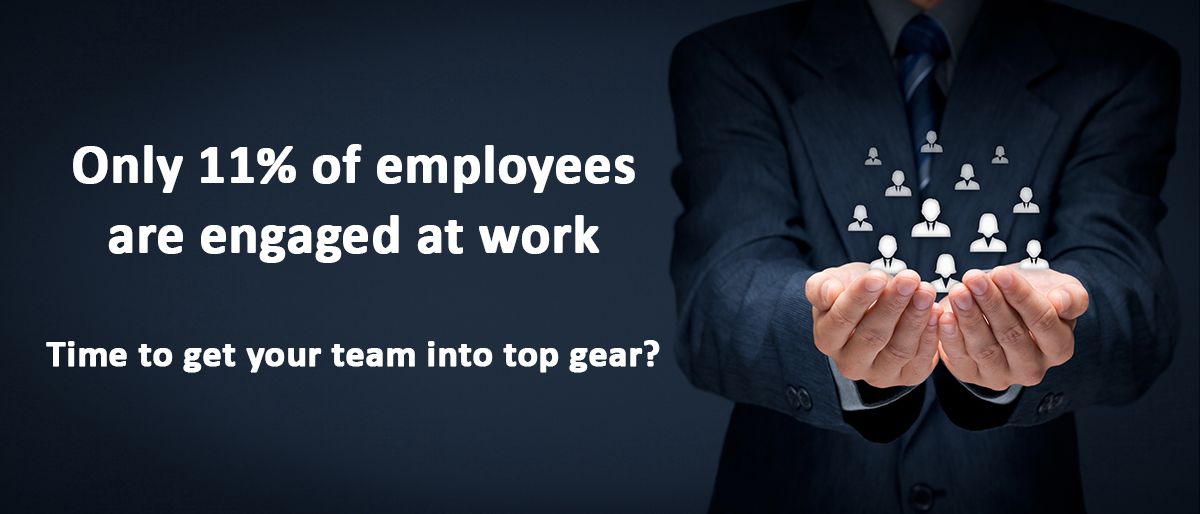 Building a winning team that consistently hits target is a challenge that few sales leaders have mastered.
Sadly, research shows that 80% of companies don't achieve their goals because of broken team dynamics and low levels of employee engagement. In these extraordinary times leaders are struggling with how to keep their teams together and focused when working remotely.
Research from Microsoft on the emerging trend towards a hybrid working environment suggests that 54% of Generation Z workers could be considering handing in their resignation*
You've already tried team training and workshops before and they didn't work, because people forget 76% of what they learned after just 4 hours. According to research from Gallup Inc. the result of this is that nearly 85% of employees worldwide are still not engaged or are actively disengaged at work.
Fortunately, technology now allows us to embed behavioural change and develop new working habits that dramatically improve employee engagement and productivity.

➡️ Sales Code can help you to:
✅ Reduce the time to value for expensive new hires
✅ Reduce the churn rate for senior staff
✅ Improve communication in cross-functional teams
✅ Transform sales teams to win new business
✅ Create a company culture that delivers an exceptional customer experience
✅ Become the coach your team needs - not the boss they resent
*The Next Great Disruption Is Hybrid Work – Are We Ready?, Microsoft
Not your average sales training company
The key to success is to fully understand how to apply your greatest talents and strengths in your everyday life. People who focus on their strengths are six times as likely to be engaged at work.
We can show you:
What the best leaders do to tie their engagement practices to business outcomes
How to create a workplace where people want to show up, work hard and stay
How Gallup's newest tools and resources will improve employee engagement so your team can be more productive
I worked with Kevin recently in his capacity as a Clifton Strengths Coach. Kevin carried out a number of assessments for my team and did a fantastic job helping them understand their strengths and to work out how they can use these strengths to develop their professional and personal lives. Kevin certainly knows his subject - he is a positive coach who shared some great advice and the feedback I received from the team was very complimentary. We will be certainly using his services again next year.
I'm normally pretty sceptical of 'coaching' systems, but Kevin's implementation of the Gallup Strengths system gave me some remarkable insights into my own personality and how to make those strengths work in a team environment. I can unreservedly recommend Kevin to anyone interested in finding out more about, and making more of, themselves.

I would highly recommend Kevin in his capacity as a Gallup Certified Strengths Coach. We recently collaborated together to organize a Strengths Workshop for an SEO team of 20 people. The insights provided, the quality of the presentation and his capacity to convey, engage and communicate where excellent. Kevin committed from the very first time we spoke to deliver a workshop that would fit our needs and despite the time limitations the team's comments weere very positive. As a final note I really appreciated his commitment to follow up with our team after the workshop which proved to me his quality as a great coach.

Kevin is a skilled, conscientious and highly effective Strengths Skills Coach with a background in training, sales and business growth. He's also deeply passionate about helping individuals and teams to thrive. In today's changing and challenging business and corporate environment where having high performing individuals, teams and leaders is so key the work that Kevin does with individuals and teams can really help ensure you know, utilise and build on your strengths individually and collectively.
"
Sales Code is a Gallup partner company but not part of Gallup. Sales Code coaches are not employed by Gallup and our work is provided by Sales Code coaches, not by the Gallup organization.