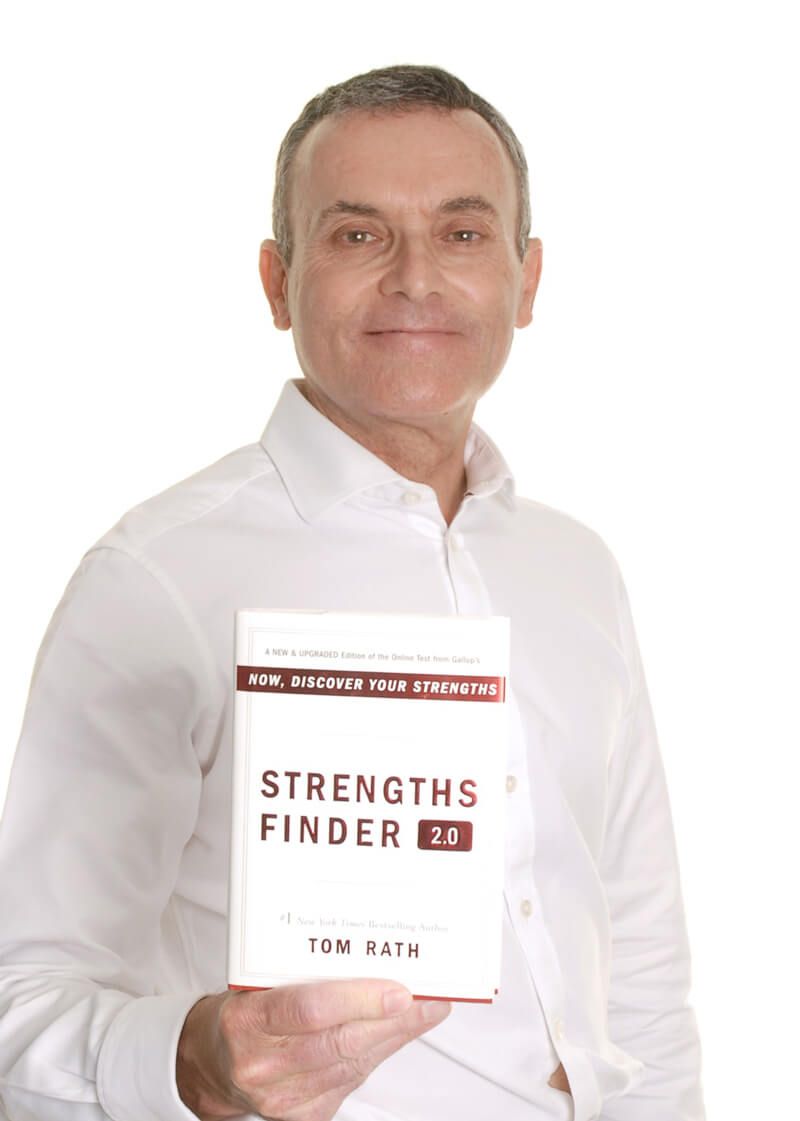 Strengths-Based Teams
When leaders focus on and invest in the strengths of their team members, the odds of each person being engaged goes up eightfold. Using the CliftonStrengths® assessment, this program will empower every tier of leadership to effectively engage themselves and their team members.
Overview
This 14 week program helps senior team members and aspiring leaders understand how to excel in their role, choose a specialisation and increase their contribution to the business as part of a high-performing leadership team, based on their individual strengths as identified by the CliftonStrengths® assessment.
What is the the CliftonStrengths® assessment?
Developed from Gallup's 40+ years of research into what makes people successful at work, CliftonStrengths® helps individuals clearly identify their top five strengths so that they can consciously target and deploy their talents for personal and organisational benefit.
Why focus on strengths?
When individuals focus on their natural strengths, success follows. It's a simple premise but one that's often overlooked in the quest to fill the gap on weaknesses. People who focus on their strengths every day are six times as likely to be engaged in their jobs. They are also more productive, both individually and in teams. It's an under-utilised strategy that maximises engagement, profitability and retention.
How the program works
The programme combines individual 1:1 coaching sessions for each senior team member, and a group workshop with the full senior team.
1:1 coaching - The natural talents of each senior team member are identified and then mapped to their specific role and career path in a 1:1 coaching session. Based on their strengths, opportunities and next steps are agreed with the individual and employer to maximise and deploy their talents for enhanced engagement and performance.
Team workshop - To strengthen the senior team's delivery as a group, the team's strengths are mapped together, shared and analysed in a half day workshop to promote understanding and agree areas of individual and joint ownership for improved engagement and team-wide performance.
Step 1: Aligning Leadership
CliftonStrengths®

Who: Leaders and Team
What: Online Assessment.
Why: CliftonStrengths® increases self-awareness and enables effective communication among all staff.

​CliftonStrengths® - Leader Profile

Who: Leader
What: 75 minute online conversation.
Why: Reviewing the Leaders' Strengths Profile and introducing the language of strengths development.

Strengths-Based Leadership

Who: Leader
What: 75 minute conversation
Why: Reviewing the Team Strengths Grid. Introducing the leader to the 4 needs of followers.
Step 2: Unleashing Your Team's Strengths
Team Pre & Post Work

Who: All Team members.
What: Before and after the Team Coaching Sessions - a series of exercises to introduce the strengths-based teams concept.
Why: We want to get off to a fast start – team members need to invest time in understanding their strengths.

Team Coaching Session Part One

Who: All Staff.
What: 120 minute Workshop.
Why: Introducing CliftonStrengths® to increase self-awareness, team building, and communication.
Step 3: Ensuring Long Term Sustainability
Habit building Activities

Who: All Staff.
What: A series of activities that all staff can engage in to build a strengths-based team.
Why: Long-term behavioural change will not occur in an instant or without deliberate effort.

Team Coaching Session Part Two

Who: All Staff.
What: 120 minute Workshop.

Reviewing the team strengths grid and identifying strategies to improve team communication, cohesion and performance.

Why: The HPT approach needs to be embedded in the team.
Step 4: Building a High-Performance Strengths-Based Culture
Employee Engagement Survey

Who: Leaders and Team
What: Online Survey.
Why: Measuring Engagement illuminates your organization's Strengths and growth opportunities, including the effectiveness of each manager.

State of the Team

Who: Leaders and Team.
What: Two-hour sessions for All Staff. Two coaching calls for Managers.
Why: We review the engagement survey results with staff, take their feedback, and help leaders build a targeted action plan to improve. We may repeat this to track progress.

Strengths & Engagement Champion Training

Who: Selected Candidates.
What: One to One coaching and Group workshop.
Why: We will develop internal HPT Strengths-Experts who can sustain the program indefinitely. This course will revitalize your process of advertising, recruiting, selecting, on boarding, developing, and promoting staff.

Strengths Based Team Building Sessions

Who: Leaders and their Teams.
What: Half Day Sessions.
Why: Gossip, drama, and cliques are likely one of the biggest drains on your productivity. These sessions build trust so team members can collaborate effectively.

​​Strengths Discovery Day

Who: All Staff.
What: Half or Full Day Sessions.
Why: Each participant will build a profile on "How to get the best out of me." This will facilitate healthy communication with colleagues and managers.

Coaching to Results

Who: Leaders and Champions.
What: Individual Coaching Sessions.
Why: Ongoing coaching prepares your people to sustain this initiative long after Sales Code leaves the picture.